Multiple Group Placing, Multiple Owner Handled Best In Show, Multiple Owner Handled Reserve Best in Show, NOHS Gold AKC GCHB/Int CH Edelmarke & Honor's Gravity on Trial RE SH CA SIA SEA SWN CGC CGCA CGCU TKN GSPCA VCA
CH Kismet Slipstream No-Hitter x CH Kruz Edelmarke Shimmer of Gold ROM
"Nicely constructed head with proper proportions for the breed, short-backed standing over a lot of ground, short loins, balanced angles, and movement"
-Dr. Steven D Herman, 2023 GSPCA NSS Judge
Synesthesia joined the family in 2018. With a name meaning "United Senses" we have high hopes for this new partner in the ring. Her sire, CH Kismet Slipstream No-Hitter, was Best of Winners and Best Bred By Exhibitor at the German Shorthaired Pointer Club of America National Specialty Show in 2017 and her dam, CH Kruz Edelmarke Shimmer of Gold (Australian import), was Reserve Winner's Bitch at the same National Specialty. We are so excited to see what this little one does!
Just shy of 12 weeks, Synesthesia earned her Canine Good Citizen title.
At the Royal Canin/ American Kennel Club National Championship in Orlando, FL Syn earned her Trick Dog Novice title
In preparation for her showing career, Syn attended numerous fun matches and UKC shows. Earning many Group placements and two Best Puppy in Shows.
Syn attended her first AKC show in February. Competing in the 4-6 Month Beginner Puppy class where she was awarded a Group 1 and Reserve Best in Show
Next Syn competed at her first "real" AKC show in March at 6 months and 1 week. She came away with her first Major, going Best of Breed over Specials for 4 points.
She picked up 7 points and a Puppy Group 3 from the 6-9 Month Class.
At 10 Months old Syn was awarded her second Best of Breed and was a superstar in the Group ring in California. This finished her Puppy of Achievement Award from the American Kennel Club.
A month later, Syn earns her second major against some beautiful California competition in Williams, AZ.
After her first birthday, Syn was awarded Best of Opposite Sex in Sweeps at the German Shorthaired Pointer Club of Riverside County specialty and Best in Sweeps at the German Shorthaired Pointer Club of Orange County.
The first weekend of February 2020 Synesthesia was awarded Best of Opposite Sex at the Sahuaro State shows in Phoenix, Arizona over Specials. This completed her Championships with another 4 point major. That afternoon she won her first Group 2 in the Owner Handled Group Ring. Across the weekend she went Best of Opposite two more times and Best Of Breed once to earn two Grand Champion Majors. She also was awarded Group 1 in the Owner Handled Group Ring.
The following weekend Syn headed to the field and picked up a Junior Hunter pass.
February 15th and 16th of 2020 Syn competed at the IABCA Shows in Phoenix, AZ where she received outstanding remarks from all of the judges and earned her International Championship.
Syn finished up the 2020 Owner Handled Season with five Group 4 Placements ranking her in the Top 10 Owner Handled German Shorthaired Pointers for 2020.
In November of 2020 Syn finished her Grand Championship in Tucson, AZ. That same weekend she achieved her first Owner Handled Reserve Best in Show and another Owner Handled Group 2.
With the slow down in the show schedule, Syn has been working on her fieldwork. In February 2021, Syn returned to the bird field and picked up two more Junior Hunter passes.
Summer of 2021 saw Syn earn her Junior Hunter and Rally Novice title which met the requirements for the GSPCA Versatility Certificate. This is a program we strongly believe in and strive for with all of our dogs. She also earned two legs towards her Senior Hunter title.
GSPCA NSS 2021 Syn is 1st Place Hunt Bitch at the Supported Specialty and 2nd Place Hunt Bitch at the National Specialty Show. She also earned her Rally Advanced Title at this event and gave Scent Work a try.
End of 2021 Syn was #11 Owner Handled German Shorthaired Pointer.
February 2022 Syn wins the Owner Handled Sporting Group and Owner Handled Best in Show at the Sporting Dog Association of Arizona Specialty Show.
Syn earns all 9s on her final Senior Hunter test run. Earning her Senior Hunter Title in 4 straight passes.
Spring of 2022 saw Syn finish four scent work titles; Novice Container, Novice Exterior, Novice Interior and Advanced Interior.
April of 2022 Syn goes Reserve Best in Show Owner Handled at the Lake Mathews Kennel Club show.
At the GSPCA National Specialty week Syn was 1st Place Hunt Bitch at the Regional Specialty Show and survived all cuts until the final placements. She was 2nd Place Hunt Bitch at the National. She picked up to Rally Excellent first place passes, and on the drive home stopped in Albuquerque for two more Owner Handled Group Placements.
November 2022 Syn earns her first All Breed Group placement. Group 4 in Yuma, Arizona.
2023 starts with a trip to Palm Springs. Syn goes Select Bitch and BOBOH at the Orange Country German Shorthaired Pointer Club finishing her Bronze Grand Championship. She continues to BOB Friday, Saturday and Sunday and picks up an OH Group 3 Saturday and OH Group 1 Sunday. This finished her NOHS Gold Award!

Summer of 2023 began with an All Breed Group 3 at Silver State Kennel Club before heading to the GSPCA National Specialty Show where Syn won the Hunt Bitch Class at the NSS. She competed at the Westminster Kennel Club show in New York City before returning home. Over the summer Syn won two Owner Handled Best in Shows.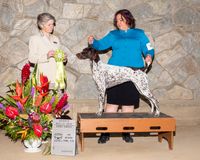 2018/8/20
Hips- Good Elbows- Normal Cardiac- Normal
CH Garbonita Arizona Rainemaker SH NA UPT UTI UPTII

CH Krispat's Raine in Arizona MH

Garbonita's Lexus Von Jaegerhof MH NA II UT I

GCH Slipstream Kismet V Edelmarke

CH Robin Crest Echo of Glory

CH Robin Crest Lorien Corniche

CH Winter Creek's A Spec Naughty JH

Aust GCH Edelhof Jack Frost

Aust GCH Edelhof the Bar Fly

CH Edelhof Ever Enchanting

CH Winter Creek's A Spec Naughty JH