GCH Country Wind Always Thankful RE JH CA OA AXJ XF DJ DS DM SIN SEN SCN CGCA TKA GSPCA VCA
GCHS Country Wind Lord of the Manor JH ROM X CH Berihill Mystic Crystal
Flir is a beautiful example of the athleticism and versatility of our breed. She meets all challenges with enthusiasm and has surpassed our expectations in every arena. She has an elegant, feminine headpiece and a light, moderate frame. She moves effortlessly, with a strong steady top line and fantastic reach. The deep liver coloring of her markings is to die for. She completed her Championship title with two four point majors at the German Shorthaired Pointer Club of Colorado Specialties in 2014. Her Grand Championship followed quickly with five four point majors including her first Best of Breed and Best of Opposite at the Mile High Sporting Dog Specialty.

In the field she has shown strong instinct and talent from day one. She was put on birds within a week of bringing her home and her instincts were undeniable. She earned her Junior Hunter at 10 months old with 4 runs in one weekend. She can go all day and has a strong steady point.

She immediately took to agility, the hardest part for her to learn was slowing down and keeping her feet on the ground. She runs hard with beautiful scope over her fences and fast weaves. She never pulls time faults and usually completes courses with scores of 100 or 95. The completion of her Novice Jumpers title earned Flir her German Shorthaired Pointer Club of America Versatility Certificate at two years old. Agility is her favorite sport and she is continuing training and competing in agility every opportunity she gets. She currently competes in Master Jumpers, Excellent Standard, and Master FAST.

We entered Rally on a whim as something to fill the time at the National Specialty show on our days off. Despite never attending a rally class, she did remarkably well and won 1st place with a score of 91. She completed her Rally Novice title with three first place finishes in as many entries with scores of 81, 91, and 93. This title earned Flir her Versatility Advanced title with the German Shorthaired Pointer Club of America. In the years that followed she continued to take home the first place ribbons in all of her NSS Rally classes and most recently earned her Rally Excellent title in 2018.
Flir retired from the conformation ring at the 2018 GSPCA National Specialty with a wonderful 2nd Place Hunt Bitch award from Judge Karen Nauer.
She has enjoyed being a foster mom to rescue puppies. While she prefers to spend her weekends working birds or soaring through an agility course, she is always ready for a cuddle on the couch. We are very lucky to share our lives with her.
After retiring from the show ring Flir has gone on to compete in agility, dock diving and scent work, earning titles in all three. She still comes out to show for the NSS and won her Veteran Class at the Regional Specialty in 2022 and her Veterans Sweeps class. She was 3rd in her class at the NSS. She loves to run around the ring while everyone cheers for her.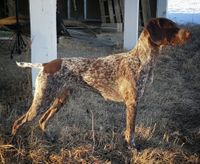 2012/11/9
CHIC- 109398 Hips- Excellent Elbows- Normal
2007/3/8

SR40723401

CHIC: 96003 Hips: Good Elbows: Normal

1993/2/24

SN051506/07

Hips: Excellent Elbows: Unknown

GSPCA Hall of Fame 2009

1993/2/24

SN051506/07

Hips: Excellent Elbows: Unknown

GSPCA Hall of Fame 2009