MBPIG CH Honor's Storm of Midnight Fire CGC TKN
GCHS Country Wind Lord of the Manor JH ROM x NOHSS AKC GCH/INT CH Edelmarke & Honor's Gravity on Trial RE SH CA SIA SEN SCN CGC CGCA CGCU TKN GSPCA VCA
"This boy has a beautiful head and expression, nice angles, combined with a nice coat and feet"
-Melissa Campbell, 2023 GSPCA NSS Sweepstakes Judge
Revan has been a special boy from birth. He began his show career with two Group 1s in the Beginner Puppy ring. His debut in the BBE Class on his 6 month birthday brought his first 5 point major, followed by a 4 point the next day. 
Two weeks later Rev finishes his Championship from the BBE Class. Making him a Champion at 6 months of age. 
Rev is taking some time to grow up after his quick time in the classes.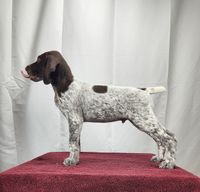 2007/3/8

SR40723401

CHIC: 96003 Hips: Good Elbows: Normal

2018/8/20

Hips- Good Elbows- Normal Cardiac- Normal

CH Garbonita Arizona Rainemaker SH NA UPT UTI UPTII

CH Krispat's Raine in Arizona MH

Garbonita's Lexus Von Jaegerhof MH NA II UT I

GCH Slipstream Kismet V Edelmarke

CH Robin Crest Echo of Glory

Aust GCH Edelhof Jack Frost

Aust GCH Edelhof the Bar Fly

CH Edelhof Ever Enchanting